PERTH AIRPORT (PER) INFORMATION
Origin
Airline
Flight no.
Scheduled
Est./Actual
Status
No flight arrivals were found at Perth Airport.
Destination
Airline
Flight no.
Scheduled
Est./Actual
Status
No flight departures were found at Perth Airport.
Car Hire at Perth Airport
UNBEATABLE VALUE CAR RENTAL
Free Amendments | Free Cancellations | No Card Fees




Perth Airport - All Information on Perth Airport (PER) Perth Airport
PO Box 6. Cloverdale WA 6985, Australia
phone +61 8 9478 8862
phone+61 8 9270 9504 (Lost + Found)
Facts and History about Perth Airport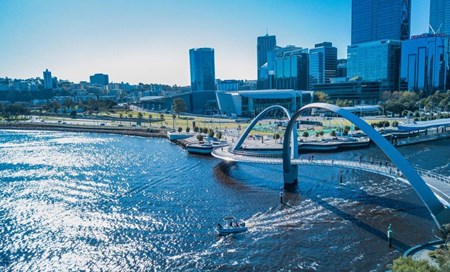 Perth Airport, known by its IATA code of PER and its ICAO code of YPPH, is a domestic and international airport serving Perth. Perth is one of the most important cities in Australia, and is the capital and largest city in Western Australia. The airport is the fourth busiest in terms of passenger traffic in Australia, and is considered as an important air transportation hub for the region. It is served by a large number of airline carriers, has a wide variety of facilities for its passengers and also several options for those in need of ground transportation. In general, it is a well-run airport, but it has had its fair share of congestion problems. However, its latest construction works and the future master plan should help to streamline the airport's flow of passengers.
The airport of Perth is found in the suburb of Perth Airport, to the east of the city center. The international terminal is approximately 17 km, or 11 miles from central Perth, and the domestic terminals are about 12 km, or 7.5 miles east of central Perth. The domestic terminals are on the western side of the main runway and about 11 km from the international terminal. Passengers on domestic flights will travel Lord Street and the Tonkin Highway in order to access Brearley Avenue, and to reach Horrie Miller Drive, the location of the International Terminal, passengers will travel the Great Eastern Highway and the Tonkin Highway. A new intersection connecting the Tonkin Highway to Dunreath Drive makes the trip to the International Terminal more convenient.
The airport can be accessed by public transport as well. Public buses run to and from various locations in the city, and the Connect Shuttle service is a popular option from places of accommodation in the city. Taxis are quick and convenient as well, and available twenty-four hours a day from outside the arrival halls. Future plans for the airport include a rail link that will connect the Midland Line between Bayswater Station and Ashfield Station at the Tonkin Highway. Nearby Brearley Avenue the line will go underground and to the terminal buildings of Perth Airport. There are of course a number of car rental companies at Perth Airport.
Currently, Perth Airport consists of T1, the International Terminal, T3 and T4, the two main domestic terminals and a general aviation terminal that handles charter flights. Terminal 2 was completed in early 2013, located on the eastern side of the runway, just below Terminal 1 - reducing congestion in Terminal 3, and all airlines (except Virgin Australia) moved to this terminal, including Alliance Airlines, Tiger Airways and Skywest Airlines. Virgin Australia control Terminal 3. A large bridge has been constructed between the terminals.
The new terminal, which is also referred to as the Terminal WA, or Intrastate Terminal, will has 16 check-in counters and space for self-service and bag drop technologies, three baggage reclaim conveyor belts, a centralised passengers security screening zone and 14 aircraft bays. An additional 36 aircraft parking bays were made available as well.
The 2024 Airport Master Plan also incorporates the idea of consolidating the domestic and international terminals into one building, that will be located on the south-eastern side of the airfield. In 2014, the redevelopment of the international terminal was scheduled, completed at a cost of over $165 million.
Early civilian air services in Perth were operated from airfields located in Maylands, and from the city's foreshore at Langley Park. However, it was soon clear that the Maylands airfield was too small. Another site was then chosen for the new airport. Before civilian operations could begin at the new airport it was taken over for military purposes in the Second World War. It served as a temporary base for the Royal Australia Air Force and the United States Navy. In 1944, civil air services by Qantas Empire Airways began. At this time, it was referred to as the Guildford Aerodrome. Further airline carriers arrived, and in 1952 the aerodrome's name was changed to Perth International Airport, as it had received international status.
From 1962 to 1986 all airport operations were conducted from a single terminal building. This building soon reached its full capacity and plans were made to build a new international terminal, which officially opened in 1986. There was also a new control tower that was built which was the tallest in Australia at the time. The current domestic terminals of the airport were built in the later 1980's, and from 2003 to 2004 the international terminal underwent major internal refurbishments.
In 2018 Perth Airport handled a grand total of 13,902,706 passengers. Currently, the airport handles approximately 4.3 million international passengers per year, and approximately 9.5 million domestic passengers a year. The busiest international routes handled are to and from Singapore, Denpasar (Indonesia), Kuala Lumpur (Malaysia), Dubai (United Arab Emirates), Doha (Qatar), Hong Kong, Auckland (New Zealand) and Johannesburg (South Africa), by the airline companies of Air New Zealand, South African Airways, Malaysia Airlines, Qantas, Thai Airways International, Jetstar, Garuda Indonesia, Virgin Australia and others. The domestic carriers of Virgin Australia, Qantas, Jetstar, Skywest and QantasLink fly to Melbourne, Sydney, Brisbane, Karratha, Adelaide, Broome, Darwin and Port Hedland.
The airline companies present at the general aviation terminal building, located along Fauntleroy Avenue, Newton Road and Valentine Road, include Cobham, Complete Aviation Services, Network Aviation Australia, Maroomba Airlines, Perth Flight Center, Skippers Aviation and Universal Aviation Australia. The codeshare airline companies offering flights from Perth include Air Canada, British Airways, American Airlines, Japan Airlines, Lufthansa, United Airlines, Air France, Austrian Airlines, KLM Royal Dutch Airlines and Virgin Atlantic Airways.
At all terminal buildings of the airport there are short-term and long-term parking facilities available, and many useful passenger facilities, such as internet services, luggage storage facilities, showers and restrooms, banks and ATM's, foreign currency exchange services, parenting rooms, quiet rooms and car rental counters. Airport lounges are also available from many of the prominent airline companies.
Perth Airport information in further detail can be obtained from the airport's call center at 61 8 9478 8888. There are also information counters in all terminals, and airport volunteers (Gold Coats) wearing yellow jackets can be found in Terminal 3.
Arrivals and Departures at Perth Airport
Hotels near Perth Airport
There are a number of hotels to suit all budgets and requirements at or near Perth Airport.
Additional Services and Amenities at Perth Airport
At Perth Airport you will find the usual array of bars and restaurants, airport lounges and shops.
Things to do in Perth City
There are a number of activities to suit all ages and interests in the region - see a selection of tourist activities in the city on Perth in Australia.
Services at Perth Airport
Useful Information about Perth Airport