Perth Airport Departures (PER)
Not all flights may be showing. If not available use search above to find your flight by airline, airport or flight number.
Destination
Airline
Flight no.
Scheduled
Est./Actual
Status
Kuala Lumpur (KUL)
Batik Air
OD156 expand_more(1)
01:20
03:44
En-Route
Kuala Lumpur (KUL)
Turkish Airlines
TK8176
01:20
03:44
En-Route
Jakarta (CGK)
Citilink
QG557
01:30
02:05
En-Route
Jakarta (CGK)
Batik Air
ID6081
01:50
03:33
En-Route
Kuala Lumpur (KUL)
Malaysia Airlines
MH126 expand_more(6)
02:10
04:18
En-Route
Kuala Lumpur (KUL)
Firefly
FY7156
02:10
04:18
En-Route
Kuala Lumpur (KUL)
KLM
KL3962
02:10
04:18
En-Route
Kuala Lumpur (KUL)
Oman Air
WY5559
02:10
04:18
En-Route
Kuala Lumpur (KUL)
Qatar Airways
QR5019
02:10
04:18
En-Route
Kuala Lumpur (KUL)
SriLankan Airlines
UL2126
02:10
04:18
En-Route
Kuala Lumpur (KUL)
Turkish Airlines
TK4806
02:10
04:18
En-Route
No flight departures were found at Perth Airport.
Flight Departures at Perth Airport
Perth Airport is one of the larger airports in Australia, and is known as PER. The airport is located in Western Australia, in the suburb of Perth, just a few kilometers from central Perth. Approximately 14 million passengers passed though this airport in 2018. Passengers have a wide choice of airline companies at the airport, and Perth Airport departure flights travel to destinations around the world. Some flights are international, while others are local (domestic). The airport is also a hub for the airline companies of Qantas, Skywest Airlines, Skippers Aviation, Cobham and Network Aviation. Jetstar Airways and Virgin Australia have a very strong presence as well.
The airport of Perth consists of an international terminal and two domestic terminals. The international terminal is on the eastern side of the runway, approximately 17 km, or 11 miles from central Perth, and the domestic terminals are on the western side of the main runway, approximately 12 km, or 7.5 miles from central Perth. The terminals are about 11 km apart. The airport is located in the suburb of Perth Airport, to the east of the city center, and is nearby to High Wycombe, South Guildford, Redcliffe, Belmont and Cloverdale. Other landmarks nearby include Pioneer Park, Hartsfield Park, Scott Reserve, Belmont Oval, the Tomato Lake Reserve and the Ascot Racecourse.
Reaching a departure flight from Perth Airport is quite easy, as there are several main roads that can be followed. The Great Eastern Highway is an important access road, as well as Lord Street, as both provide a link to the Tonkin Highway that runs to the west of the airport grounds. There is now also a new intersection off Tonkin Highway that has made the trip to the airport's international terminal a little more convenient. From the eastern side of the airport Roe Highway provides a connection to the Tonkin Highway. The trip from central Perth will take between twenty-five and thirty-five minutes, and motorists will find plenty of parking options available. Short-term and long-term facilities are dedicated to both the international and domestic terminals. Passengers may also need to reach the general aviation terminal, from where charter flights depart. This terminal has its own parking area, and is found along Fauntleroy Avenue, Newton Road and Valentine Road. The International Terminal is located on Horrie Miller Drive, and the domestic terminals are along Brearley Avenue.
Passengers can take public transport to the airport as well, or the Connection Shuttle provides transport from many hotels in Perth. The buses are operated by Transperth, and are frequently available. On-site airport buses are available for transfers between the terminals. Taxis can also be used to reach a departure flight, but there is no train station at the airport. In the future, a railway line to the terminals may be implemented. For those with a rental car from Perth Airport, you should return it to the relevant supplier.
International Perth Airport departures
The eastern international Terminal 1 serves a number of airline companies, including Qatar Airways, Singapore Airlines, Skywest Airlines, Qantas, Malaysia Airlines, Jetstar Airways, Emirates, Indonesia AirAsia, Cathay Pacific, China Southern, Air New Zealand, Air Mauritius, South African Airways, Thai Airways International, Tiger Airways and Virgin Australia. The busiest international routes from Perth Airport are those to Singapore, Indonesia, Malaysia, United Arab Emirates, Hong Kong, New Zealand, South Africa and Thailand. Many other destinations are offered as well. Passengers are recommended to arrive at least three hours prior to their international departure flight, with a valid passport, boarding pass and a completed OPC (Outgoing Passenger Card). An OPC is handed to a passenger upon check-in, or they are available in the Customs area. This terminal of the airport is open twenty-four hours a day, seven days a week.
Facilities of the International Terminal include a number of shops and restaurants, printing, faxing, copying and online services, a 'quiet' room, postal services, luggage lockers, a lost property counter, public telephones, showers and toilets, parenting rooms, a branch of Travelex, a foreign-exchange ATM and first aid facilities. There are also water fountains, from where the water is safe to drink, and there is a public observation desk that offers lovely views over the airport's runway activities. The observation deck is found on the third floor of Terminal 1. The airline lounges in the terminal are open two hours prior to departure, and include the Emirates Lounge, Malaysia Airlines Lounge, Captains Club (Qantas) and the Silver Kris Lounge (Singapore Airlines).
Domestic Perth Airport departures
Terminal 3 and Terminal 4 are currently the domestic terminals of Perth Airport. Terminal 3 is home to the airline companies of Virgin Australia, Alliance Airlines, Skywest Airlines and Tiger Airways, while Terminal 4 is home to Qantas, QantasLink and Jetstar Airways. Upon completion of Terminal 2, Virgin Australia will take over Terminal 3, and the others will move to the newer terminal. Busy domestic routes from Perth Airport fly to Melbourne, Sydney, Brisbane, Karratha, Adelaide, Port Hedland, Broome, Kalgoorlie, Newman and Darwin.
Domestic passengers should check-in at least forty-five minutes prior to their departure flight. Within the terminals passengers will find many useful facilities, including lovely shops and restaurants, and assistance can be acquired from the friendly 'Gold Coats' in Terminal 3, who are a group of volunteers trained to help passengers. They are easily recognised by their yellow jackets. The Virgin Australia Lounge and the Qantas Lounge are very popular in these terminals as well.
From the General Aviation (Regional Travel) Terminal of the airport, charter flights depart. A variety of aviation companies are present, including Network Aviation Australia, Skippers Aviation, Pearl Aviation Australia, AVWest, Complete Aviation Services, Cobham and Maroomba Airlines.
Live Perth Airport departure flight schedules can be found on various online websites, or further details are available at the airport's information counters. Note that the entire airport complex is accessible to persons with disabilities, and various services are available to ensure their ease of passage from point of arrival to airplane.
Was your flight delayed or cancelled?
You may be eligible to receive up to 600 EUR compensation per person in your party..
Claim Now!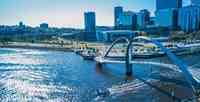 Perth is located alongside the western coastline of Australia, and is home to some fabulous beaches