Perth Airport Arrivals (PER)
Not all flights may be showing. If not available use search above to find your flight by airline, airport or flight number.
Origin
Airline
Flight no.
Scheduled
Est./Actual
Status
Denpasar (DPS)
Citilink
QG554
04:50
04:07
Landed
Singapore (SIN)
Singapore Airlines
SQ225 expand_more(8)
05:10
05:02
Landed
Singapore (SIN)
Asiana Airlines
OZ6797
05:10
05:02
Landed
Singapore (SIN)
Lufthansa
LH7206
05:10
05:02
Landed
Singapore (SIN)
SAS
SK8071
05:10
05:02
Landed
Singapore (SIN)
Swiss
LX9042
05:10
05:02
Landed
Singapore (SIN)
Turkish Airlines
TK9316
05:10
05:02
Landed
Singapore (SIN)
United Airlines
UA7672
05:10
05:02
Landed
Singapore (SIN)
Virgin Australia
VA5525
05:10
05:02
Landed
Singapore (SIN)
Vistara
UK8225
05:10
05:02
Landed
No flight arrivals were found at Perth Airport.
Flight Arrivals at Perth Airport
Perth Airport (PER) consists of an international terminal and two domestic terminals, and is located in the suburb of Perth, a few kilometers to the east of central Perth in Western Australia. There are 37 scheduled airline carriers at the airport that serve over 77 destinations. Certain airline companies also use the airport as one of their hub locations. At Perth Airport, arrival halls are well equipped to welcome their passengers, with all the facilities they would require. Arriving passengers have easy access to various forms of ground transportation as well, and can therefore quickly reach the city center of Perth from the airport.
Flights arrive at Perth Airport from destinations around the world, and from many other cities in Australia. The airport is considered as the fourth largest (busiest) for passenger traffic in the country, and is a hub for the airline carriers of Skywest Airlines, Cobham, Network Aviation, Qantas, Skippers Aviation and Alliance Airlines. It is also an important airport for the operations of Jetstar Airways and Virgin Australia. Passengers can fly to Perth Airport from international destinations that include Johannesburg in South Africa, Kuala Lumpur in Malaysia, Dubai in the United Arab Emirates, Hong Kong, Denpasar in Indonesia and Phuket in Thailand. The sixth busiest route at the airport is from Auckland in New Zealand. Airline carriers that offer international flights to this airport in Western Australia include Qantas, Singapore Airlines, Tiger Airways, Emirates, Cathay Pacific, Air New Zealand, South African Airways, Thai Airways International, Virgin Australia and Malaysia Airlines.
Jetstar Airways, Qantas, QantasLink, Virgin Australia and Skywest are the main carriers for domestic flights arriving at the airport. Approximately 1.8 million passengers fly between Perth and Melbourne every year, and 1.6 million passengers fly between Perth and Sydney each year. Other popular domestic flights are conducted between Perth and Brisbane, Karratha, Adelaide, Port Hedland, Broome, Kalgoorlie, Newman and Darwin. In 2018, Perth Airport handled a total of approximately 14 million passengers.
The international terminal of Perth Airport is located on Horrie Miller Drive about 17 km from the city center. This terminal is on the eastern side of the main runway system. The two domestic terminals of the airport are found on the western side of the main runway, and are referred to as Terminal 3 and Terminal 4. They are about 12 km from central Perth. The city of Perth itself is found along the beautiful western coastline of Australia, and boasts some of the most lovely beaches in the country. Diving, surfing and whale-watching are particularly popular activities in Perth and a few of the city's favourite attractions include the Allan Green Conservatory, the Margaret, River Chocolate Company, the Calamunnda Camel farm, Adventure World, Perth Zoo and the Aquarium of Western Australia. Without a doubt, visitors of Perth will find plenty of interesting outings to keep their days on holiday busy and fun.
North of the city center are the areas of Stirling, Joondalup and Janchep, while to the south are the areas of Rockingham and Mandurah. A little further south is Bunbury, and further north is Jurien Bay. Perth is the only major city in Western Australia. While the airport is to the east of central Perth, Rottnest Island is to the west, just off the mainland.
Within the terminal buildings of Perth Airport, arriving passengers will find a variety of facilities, for example, baggage carts to assist with the transport of their luggage, a foreign exchange ATM, foreign exchange bureaus (Travelex), parenting rooms and wheelchair accessible restrooms, services such as printing, faxing and internet, public telephones and shower areas. The airport has many wonderful shops and restaurants as well, and is completely accessible. There are automatic doors and lifts to all levels of the terminals, the use of wheelchairs may be requested, TTY phones are available and convenient passenger pick-up areas can be found nearby the terminal exits.
Free shuttle buses run between the domestic and international terminals because they are located approximately 11 km apart. These buses are available twenty-four hours a day, every twenty minutes. Buses can also take arriving passengers to Perth. There are public bus services and the Connect Airport Shuttle, that are managed by Transperth. The Connect shuttles travel to many places of accommodation in the city, and do not require a reservation when travelling from Perth Airport. The public buses drop passengers at various public locations in the city. There are taxis available as well, outside of the Perth Airport arrival halls, which can be a convenient and quick form of transportation to any following destination. There are currently no train services available from the airport.
Car rental facilities at Perth Airport are available for passengers as well, nearby the arrival areas of the domestic and international terminals. The car hire companies include Hertz, Budget, Avis, National and Europcar, and all present offer competitive car rental rates and high quality vehicles. Child seats and satellite navigation systems can be hired with the vehicle. If travelling the city and surrounding areas is part of the planned holiday schedule, a rented car is definitely recommended.
Passengers on charter flights operated by AVWest, Complete Aviation Service, Skippers Aviation, Universal Aviation Australia, Pearl Aviation Australia, Cobham and the like, will arrive at the General Aviation Terminal for regional travel located on Valentine Road, Newton Road and Fauntleroy Avenue.
Further details regarding Perth Airport arrivals can be found online, as well as live arrival schedules, or the airport can be contacted at 0061 8 9478 8888.
Was your flight delayed or cancelled?
You may be eligible to receive up to 600 EUR compensation per person in your party..
Claim Now!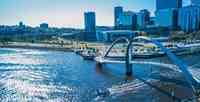 Perth is located alongside the western coastline of Australia, and is home to some fabulous beaches